What you need to know about purchasing commercial kitchen equipment
HospitalityHub spoke to Erwan Nguyen, Marketing Manager from Petra Equipment about what you need to consider when purchasing commercial kitchen equipment and how you can keep your business at the cutting edge.
Thinking of opening up your own restaurant or cafe? Maybe you're due for a kitchen fit-out and you don't know where to start. Or perhaps you're looking to delve into the world of catering.
You might have a plan, but without undertaking the proper research, navigating the world of commercial kitchen equipment can lead to a result that falls shy of your original objective. Take it from the experts, a little bit of legwork goes a long way.
HospitalityHub: Should food service businesses aim for equipment at the higher end of the scale?
Erwan Nguyen: Buying equipment at the higher end of the scale can help businesses to avoid costly repairs, and also adds to the quality and flavour of food. However, we recognise that the product offering for each budget and each kind of business is going to be different.
A more established business may be looking for higher end equipment with a specific brand in mind, while an entrepreneur starting his first business may have a lower budget and will often purchase lower to medium range equipment. As such, depending on your business model, equipment at the lower end may be suitable and efficient enough for the job at hand.
It's really important to do your research. Each product, whether at the high end of the scale, or at the lower end is going to have its own range of advantages and disadvantages. It's best to assess your budget, talk to a reliable supplier, think about what you can afford, and aim to get the most bang for your buck.
What would you say are the absolute essential pieces of equipment one needs to pull off a successful catering job?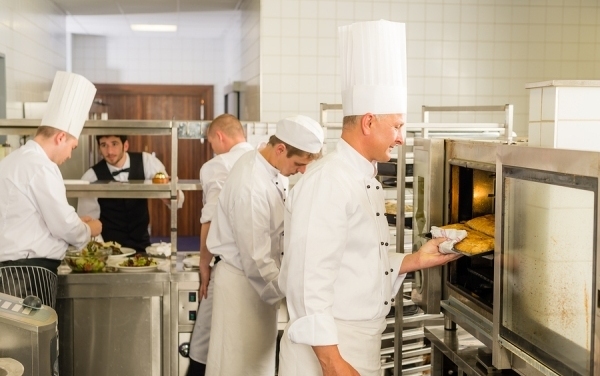 Customers usually have four main criteria: price; equipment features; services such as delivery and installation, and the quantity of food they need to produce to reach their daily targets and objectives.
When it comes to hospitality, you will need to look at three essential types of equipment:
Food displays: they are really important for your potential customers to know what you are selling.
Refrigeration units: most caterers need either a commercial fridge, a chiller or a freezer. In Australia, due to our extreme temperature, caterers need to make sure they purchase the correct refrigeration unit to suit their location.
Cooking equipment: this needs to match with your customer demand and your space availability.
What services can caterers offer in today's do-it-yourself climate that will ensure their business is at the cutting edge?
Caterers often expand their horizontal business by adding more services or products. We have seen that the customers who succeed the most are the ones who improve their vertical services, such as improving customer waiting times and ongoing commitments to improving their menu and the quality of the food served.
After improving your customer loyalty, the next step is to promote your business to potential customers who have never heard of you. We've found that an online presence is really important; we have helped customers to improve their online presence in simple, yet effective ways, such as: registering for free on Google maps, having a social media presence, posting special weekly deals on sites such as GroupOn and DealsDirect, and creating a website for your establishment to show off your decor, menu, special events, deals or services.
Other articles: Pizza Equipment, Nutrition, Digital Marketing Agency, Restaurant Shopfitters Sydney, Robot Coupe & Reviews.
What advice would you give to a business planning on purchasing catering equipment? Make sure you get a clear understanding of the differences between lower and higher end equipment. Do your research; work out what you need and what you can afford. If necessary, consider financing options such as a weekly payment or upfront purchase.
Also understand the government incentives for caterers with less than a $2m turnover: when you purchase new catering equipment, you are able to depreciate 100 per cent of every item under $20,000 in the first year, this allows you to decrease your tax immediately.