In fact, investing in high-quality equipment from the beginning can actually save you money in the long-term. It's not rocket science: better quality = greater longevity. Not only this, but we've also seen a rise in the reliance of automation in the food industry over the years, with many businesses adopting automated machinery in placement of actual workers. This not only reduces the number of staff that need to be paid, but also ensures the consistency and efficiency of product out-put.
When making a decision on a purchase, it's crucial to not only consider the products you need to produce, but also the quantity of them and the potential growth of your business. At Vanrooy, we understand that finding the right mix of bakery equipment to fit-out your bakery can seem like a daunting and expensive task; that's why we're here to help.
We are dedicated to not only providing the best quality equipment to our customers, but also to giving expert advice and opinions on what will be the smartest investment for your business. Below are some pieces that we believe are important to take into consideration whilst on your purchase journey.
Spiral Dough Mixers
Whether you're mixing dough for bread, biscuits or pastry, having a high performing, quality mixer should be at the top of your list.
You should check out:
The Escher Premium Spiral Series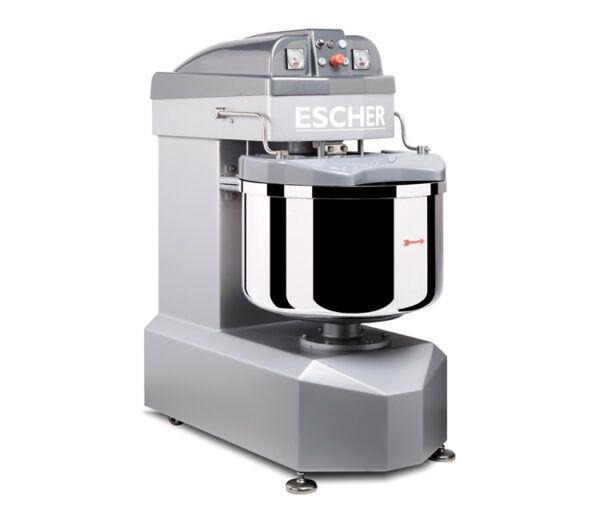 The Escher M100 is our best selling mixer, and for good reason! This fixed bowl spiral dough mixer designed specifically to improve your production quality and time parameters. The Premium Line was created for intensive use with stiffer doughs whilst featuring the Premium drive system and dual belt resulting in more power being delivered to the spiral tool. The Escher M100 is the most robust spiral mixer on the market, producing the highest quality dough with minimal heat generation to the dough. The M Premium Series has a capacity range from 40kg to 240kg. There are two speeds available for use, automatic timers and a two-way bowl rotation allowing you to reverse the bowl in first speed. You can learn more about the Escher Premium Spiral Series here.
Automatic Pastry Sheeter
Rolling out dough may seem like one of the easiest things to do in the kitchen, however even the most experienced bakers sometimes encounter problems. Mainly, bakers that need to produce a large range of pastries require a lot of 'hands on deck'; this is where an Automatic Pastry Sheeter can come in handy.
You should check out:
The Tekno Stamap Autosmart Pastry Sheeter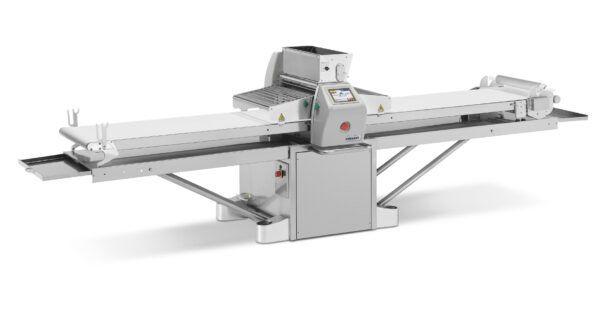 The Tekno Stamap Autosmart range has been designed to automate even the toughest doughs, to ensure simplicity and perfection for your production. The sheeter is available in several sizes, comes equipped with a Flour duster that has adjustable flour quantity, and has an optional cutting device. It's also easy to operate, has a colour 8" touch screen and can store up to 50 recipes and activate sequential programming. Plus, being on wheels makes it easy to move around. You can learn more about the Tekno Stamap Autosmart Pastry Sheeter here.
Automatic Slicers
As mentioned previously, automation is becoming increasingly important to bakers. Not only does it save time and money, investing in the right automated equipment also ensures the consistency of your products. When it comes down to slicing your product into individual sizes, purchasing an automatic slicer can ensure consistency, which further increases throughput by decreasing yield loss as fewer off-spec products have to be thrown away.
You should check out:
The Bakon Compact Ultrasonic Slicer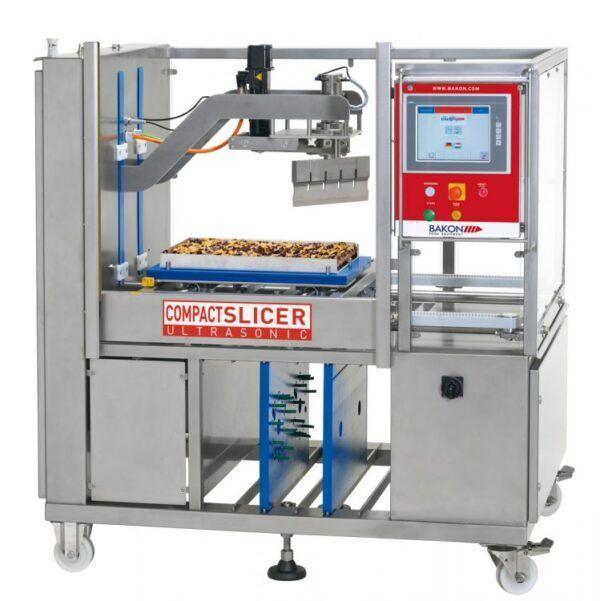 Designed specifically to produce the best slicing results imaginable, the Nano Ultrasonic Slicer by Bakon utilises their absolute latest in technology to cut and slice small to midsize confectioneries, with absolute precision and consistency. The Ultrasonic Slicer comes equipped with a full colour LCD touchscreen with many settings, functions and capacities. It also has a safety light curtain system that prevents access to the slicing area when the machine is operating. This machine is suitable for cake and savoury products, round or square, and fits product trays up to 400mm x 600mm. It is available with several options to meet your needs and slicing capacities with a titanium cutting blade of 180mm. You can learn more about the Bakon Compact Ultrasonic Slicer here.
Deck Ovens
Perhaps the most important investment you make in your business will be your oven. Baking, after all, is the final testament to your art; and a good, high quality bakery oven will provide you with consistency and reliability for years to come. Whilst there are loads of ovens to choose from, deck ovens are considered to have the most benefits for a bakery. Typically, deck ovens use conduction heat to bake various products including breads and pastries. There are two types of deck ovens available: ones that operate on gas and ones that use electricity.
You should check out:
The Salva Modular Deck Oven Range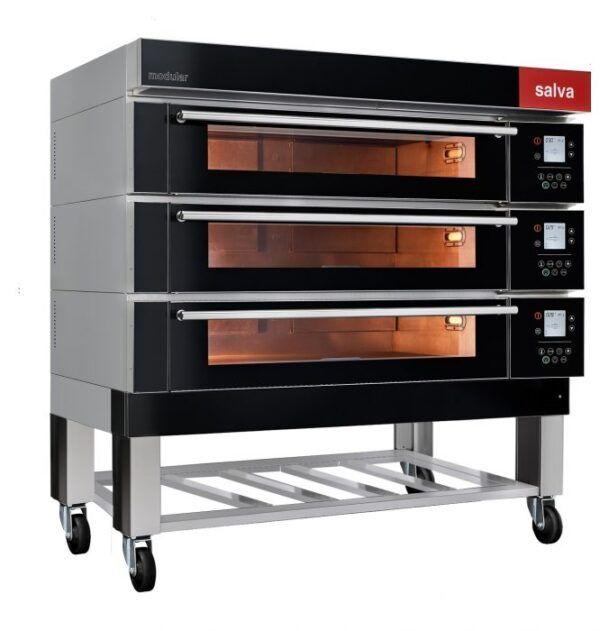 The Salva Modular Deck Oven range is recognised worldwide for its baking quality, flexibility and versatility. The new range boasts industry leading features, programs and power saving qualities to help you bake better, with the NXE being their most popular from the range. This oven has guaranteed uniform heat distribution throughout the chamber and its independent modules allow different types of products to be cooked in each module. It is designed for 3 trays per deck and is available in 1-5 decks. Learn more about it here.
The Salva Elecsol Electric Deck Oven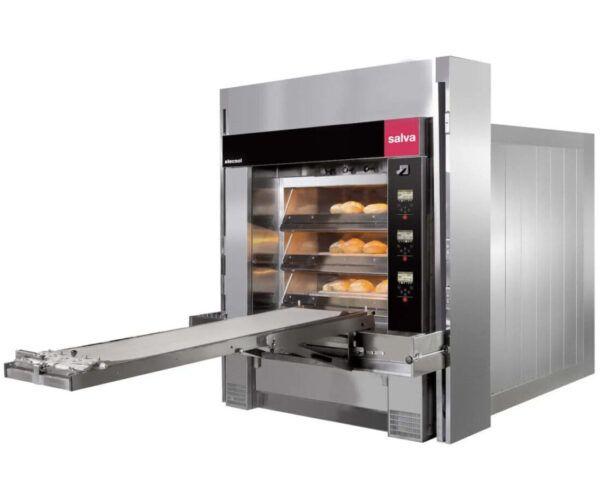 Salva's Elecsol Electric Deck Ovens use stone sole plates and adjustable electric heating elements to produce high-quality bread with an outstanding appearance and unrivalled base. This range of ovens is the ideal solution for artisan bakers seeking to make different varieties of quality bread, but with a lighter and more flexible solution than a traditional deck oven. Not only is this oven versatile and easy to use, it's also convenient, simple to maintain, has low consumption (ensuring that the oven's heat power is used to the full) and is equipped with refractory stone of alimentary grade to give a spectacular sole to the final product. You can learn more about it here.
Now would be an appropriate time for us to remind you of the asset write off scheme that was introduced last year and is valid until the 30th of June.
As of March 12th 2021, the Australian Government has increased the asset write off scheme from $30,000 to $150,000, whilst increasing the eligible businesses with an aggregated annual turnover of $50 million to $500 million.
So what does this mean for you? Essentially, if your business has an aggregated annual turnover less than 500 million and is purchasing an eligible asset, you are able to make a deduction on the taxable purpose proportion of the new asset. This is the proportion of your new asset that will be used for earning assessable income for your business. In order to find this amount, a subtraction of any private use proportion is necessary, which is the proportion of the time the asset will be used outside of the business. Remember, it is only the taxable purpose portion of the asset that is eligible for deduction and the entire cost of the asset must be of a value less than $150,000.
All of the machines mentioned in this article are covered by our exclusive two-year warranty. If you would like to make an inquiry on any of the above pieces of equipment, please don't hesitate to get in touch. Our team is always happy and available to help with whatever you need.