Maybe your bar would be a supermodel in a cocktail dress or someone's aunt in an understated, but practical beige frock. Whoever your bar is, build an image of them, give it a personality, and then dress them to match.
Be consistent
Don't splash out on Italian furnishings and marble floors, then plonk plastic chairs from Bunnings around the tables – even Armani suits look cheap with bare feet. From the walls and floors to the tables, chairs, napkins, glasses and beer coasters, every last detail counts. And don't stop at the toilets. They may be the underpants of your bar's outfit – unseen by many – but they still matter. Give your patrons a Mickey Mouse boxer shorts bathroom experience.
Light up your life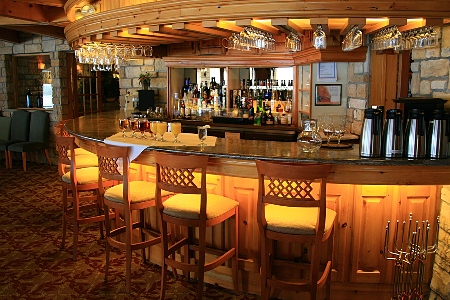 Lighting is the bling of your outfit and super critical to your bar's success. For a start it stops people falling over things. More importantly, it sets the mood of your bar. Your decor can be as chic as you like, but if the lighting is too bright and garish, your bar will have all the ambience of an airport departure lounge. So keep things atmospherically, but appropriately dim; moody, but manageable. Table lamps and candles create a warm and welcoming glow and allow patrons to read menus without a torch. Dimmers let you adjust the mood for different nooks and crannies around your bar.
Colour your world
Colour drives the emotions of your bar as much as music. Red might be the colour of love, but only splash it liberally around your bar if you want raised heartbeats and high energy. On the other hand, if you're serving food, red is known to be an appetite stimulant. Blues create a more laid back, sip all night mood, while greens and browns give your bar a warm, natural and reliable feel. Whatever your colour choices (and a combination is usually preferable to one solid colour), try to keep your colour scheme timeless and free from fashion fads. The last thing you want is a bar suddenly decked out in last month's colours.
Keep it clean
Be it the man in the Armani suit or aunty in her beige frock, your bar needs to be obsessive compulsive about cleanliness. Give it the equivalent of a long, hot shower daily and mop its brow constantly, especially when you're busy. Your bar can be the most beautiful place in town, but if your tables are dirty, your bar sticky and your glasses the exact opposite of sparkling, it will have all the allure of Armani suit man after a three day bender.
Remember, you're creating a personality, an experience. You're creating something you want people to snuggle up to. So make your bar as human and endearing as possible to the people you want to attract.