Turning a 'free-from' menu into a reservation free for all
With ten per cent of the Australian population suffering from a food allergy, and nearly 30 per cent choosing a free-from lifestyle, it's time for restaurant owners, chefs and staff to stop turning away 'fussy' eaters and embrace the opportunities these customers present.
As it currently stands, Australian Food Standards legislature denotes that all restaurants must clearly label, or recite upon request, any of the ten major food allergens present in their menu. With the EU's recent decision to replicate our allergen standards, it's evident that food allergies are becoming more of an international food safety matter.
Catering to the free-from market is vastly easier than one would expect, even for the smallest of restaurants or café's. In fact, by investing in the same technology that allows one to offer a free-from menu, you can reap the benefits of increased productivity, operating costs and storage space.
Get it right, and you open up the opportunity for the gluten free, nut free, soy free humans of the world to flock to your venue like Myer on Boxing Day. But get it wrong, and you open yourself up to anaphylactic shocks and a pile of lawsuits.
How to create a free-from frenzy at your venue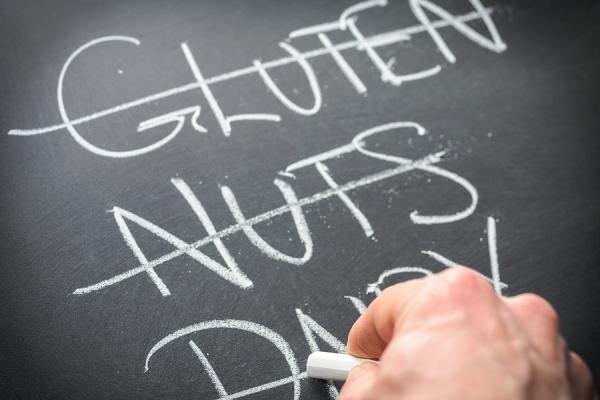 Educate yourself
Learn the difference between 'free-from' and 'may contain' and decide how much you want to cater to allergen free customers. The big issue with many venues is that they advertise products as gluten free, dairy free and soy free without determining any cross contamination risks.
Here's a hint: if you use all the same equipment, your menu isn't free from. In this instance, make sure your front of house staff are well aware of the cross contamination so that patrons are aware of the risks of eating your gluten free pizza.
Invest in good quality storage
Ensure you invest in and utilise good quality food boxes & matching lids to help eliminate the risk of cross contamination. There is an awful trend for venues to rely on cardboard boxes and plastic wrap as their food storage solutions.
Not only does this eliminate any possibility of safely offering a free-from menu item, but it also exposes food to harmful bacteria, cross contamination, leaks, spills and decreased productivity for staff who are constantly searching through boxes to find what they are looking for.
It's a good idea to invest in a range of storage that ensures all contents are clearly identifiable, such as this range offered by Cambro. Best practice means using labels to identify common major allergen ingredients such as nuts, wheat and eggs. This way, hazards are easier to spot and you have the added benefit of being able to place these items closer together to avoid contamination.
Moreover, to ensure your raw allergen free ingredients have zero chances of cross contamination, you can invest in FlipLid's rather than regular lids – not only are these polycarbonate lids virtually break free, and leak or drip free, they also ensure you don't remove a lid and place it onto a surface to extract a container's contents. Why is this so wrong? Have a think about the possible contaminants that could be picked up by simply putting a lid down on a kitchen bench.
Purchase and create in bulk
When it comes to creating a delicious and safe free-from menu item, bulk is the key. Use those times between service to create large vats of sauces, stewed meats, sautéed veggies and creamy gluten free pastas and vacuum pack these into individual clearly labelled portions.
By utilising things like PureVac in your restaurant operation, your free-form items won't need to be segregated in cool rooms. The food could sit on top of a bag of nuts and face no risk of cross contamination.
Vacuum packing means you're purchasing menu items in bulk, portioning them between service, then vacuum packing them. This food will last between two to four times longer than regularly stored food, which means less purchasing, less often, with less double-handling and less risk. Now that's more for less!
Colour scheme your kitchen
Whether you're preparing your bulk free-from menu items during downtime or preparing items one at a time, cross contamination accidents are still likely to occur unless all cooking equipment is properly marked, labelled and easily identifiable.
Colour scheming your kitchen is a great way to minimise accidents – ie. use red lids, Food Rotation Labels and StoreSafe ID clips to mark those items that need to be kept clear from cross contamination. Purchase bold coloured pots & pans, knives and chopping boards for creating free-from items. Remember that investing in a safe and consistent menu should be your number one priority!
Spread the word
Once you've created your new dairy free desserts, nut free appetisers and gluten free mains, make sure you let people know about it! Urbanspoon, Eatability and other online foodie sites love sharing this type of information to their consumers.
The Australian Coeliac Society keep a running list of safe venues for Coeliac's to dine at, with their forums being extremely active and a great way to market your new menu items.