Technologically advanced liner 'brings industry into 21st century'
She's smart, fashionable, tech savvy, boasts a skydiving simulator, dodgem car circuit and even a scenic crane. If those amenities aren't enough to float your boat, perhaps her robotic bartenders will?
She's the Royal Caribbean's new Quantum of the Seas, which the luxury cruise brand bills as the 'world's most technologically advanced cruise ship, poised to bring the industry into the 21st century".
Currently near the end of her maiden voyage, an eight-day cruise in the Atlantic Ocean, the ship has 16 guest decks filled with 2090 staterooms, which can house up to 4180 guests.
"Quantum of the Seas isn't just changing cruising, it's changing how today's traveller vacations," said Richard D Fain, chairman and CEO, Royal Caribbean Cruises Ltd.
"It's not just how you travel, it's the experience from start to finish. With Quantum we are empowering our guests to customise every aspect of their journey, providing them with an unprecedented level of freedom and flexibility."
The official naming ceremony for Quantum of the Seas took take place last Friday (14 November) during the pre-inaugural celebration hosted by the ship's godmother, Kristin Chenoweth.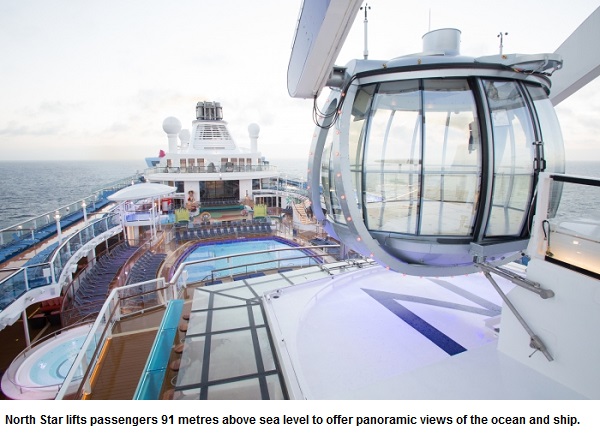 Just some of the highlights include:
The Smartest Ship at Sea
Unprecedented levels of technology amp up the vacation experience onboard Quantum of the Seas which allows for the utmost in simplicity, efficiency and customisation.
Guests can be online and connected 24/7 should they choose to be, thanks to superfast wireless speeds that match broadband connections onshore, while RFID luggage tags provide the option of tracking luggage in real time through smartphones, and a downloadable app, Royal iQ, empowers guests to manage every detail of their vacation during the cruise.
Technology also enables a number of surprise-and-delight elements on Quantum of the Seas, including a brand new venue, Bionic Bar powered by Makr Shakr that is set to make waves with robots at centre stage.
Royal Caribbean added to its portfolio of exclusive, groundbreaking onboard experiences that have never before been imagined at sea with a skydiving experience called RipCord by iFLY, as well as the engineering marvel North Star, a glass observation capsule that gently rises more than 300 feet in the air to treat guests to dramatic 360-degree views.
More "firsts" including bumper cars, a circus school with flying trapeze and roller skating can be found inside SeaPlex, the largest indoor active space at sea.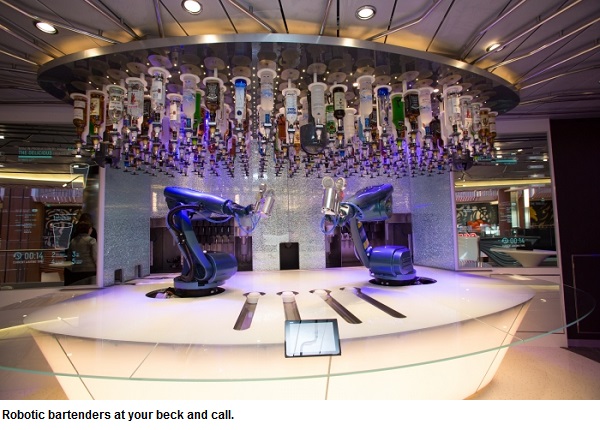 A New Era of Dining at Sea
Cruise ship dining has also been modernised onboard Quantum of the Seas with Dynamic Dining, where guests have total control of their own culinary journey and can choose from a landscape of 18 distinctive restaurants.
Five complimentary, full-service restaurants replace the traditional, common main dining room, while a variety of specialty restaurants including the new multi-sensory venue Wonderland Imaginative Cuisine, as well as concepts from award-winning chefs Jamie Oliver, Michael Schwartz and Devin Alexander.
Show-Stopping Entertainment
Technology headlines Quantum's entertainment with a lineup of first-of-their-kind productions and performances, and is most prevalent in the ship's transformational new venue Two70. Here the most highly advanced digital displays, Vistarama and Roboscreens, intertwine with live performers, music and special effects to deliver spectacular, multidimensional shows and events.
The Royal Theater is home to Broadway's smash hit musical MAMMA MIA! as well as an all-new headline show, Sonic Odyssey, which was inspired by musician and innovator William Close and his variety of one-of-a-kind majestic instruments, while the all-new Music Hall sets the stage for live music featuring bands, musicians, DJs, theme night parties and more.