How to pair food and wine for the ultimate meal
By: Darin Pike – HospitalityHub Writer
24 November, 2014
For many diners a meal simply isn't complete unless they have the right wine paired with their favourite entrée. This can be a challenge when dining with an unfamiliar wine list.
Some wine and food combinations are easy; it's as if certain dishes were crafted with a particular style of wine in mind. However, the evolution of cuisine can make wine selection more interesting.
Restaurant staff can use the following guidelines to help patrons pair food and wine for the ultimate meal.
Obey the wine rule – there are no rules
The only rule with pairing wines is there are no hard-and-fast rules. Different palates appreciate different wines and not every combination works with unique sets of taste buds.
Sommeliers should be sensitive to patrons that aren't as diverse in their preferences and attempt to find an option that works best for the diner. Also, the term "sophisticated palate" is best saved for when out of earshot of guests – take our word for it.
Conventional wisdom is not always so wise
Wine standards dictate red wine goes best with beef, while a white should be served with chicken and fish. However, there are exceptions galore.
Chicken Parmesan, for example, takes on a better flair when served with a glass of Pinot Noir or Merlot (this writer would lean towards a bold Cabernet). The red sauce and rich, salty cheese are just begging for a bold sidekick.
Complex dishes open a broader spectrum of wine options. The standards that casual wine drinkers embrace don't always apply, and the ones that do may not be a good fit for the customer. Remember, beauty is in the mouth of the drinker.
Find balance between food and wine components
The ultimate meal can only be achieved when the four components of wine and of food find a nice balance. Wine is distinguished by tannin, sweetness, acidity and alcohol content; foods can be broken down as salty, sweet, sour and bitter.
The trick is finding combinations that strike a blissful balance.
As much as a patron might enjoy a full-bodied Cabernet and lobster with drawn butter, the wine would completely overpower the main course. The guest may still enjoy the meal, but odds are a little compromise will enhance the experience.
Guide the diner to choose either the wine or the lobster and then find an option that will pair well with the choice. Here are a few taste suggestions for the four wine qualities:
Tannin
A high-tannin wine like Cabernet Sauvignon pairs well with salty foods, as it decreases any residual sweetness and smoothes out the dish.
Sweetness
A sweeter wine like Riesling will also go well with salty foods. The salt balances out the sweet and the salty meal enhances the fruitiness of the wine.
Acidity
Wines like Sauvignon Blanc are more acidic. Sweeter and even some salty foods will balance the acid nicely.
Alcohol content
Full-bodied wines with a higher alcohol content are a great mix with sweeter foods or those with a bit more fat, such as steak. Be careful with more complex dishes, though. Higher alcohol wines can feel bitter with salty foods, while it ups the kick with spicy foods.
Offer a taste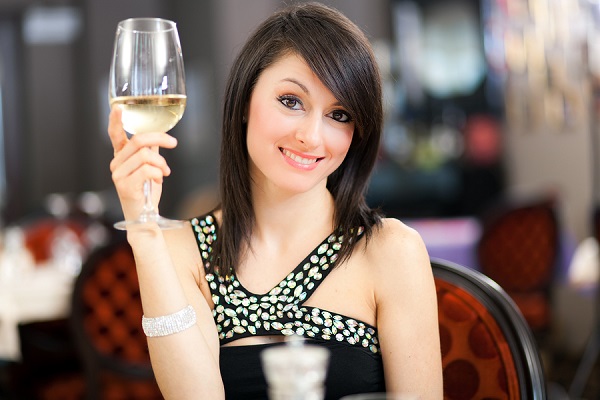 Most diners have at least some sense of adventure, but many will be reluctant to spend $12 on a glass of wine that doesn't seem like a natural fit to their meal. The chances of buying a nice bottle are virtually nil.
When an unfamiliar red is the best option with their entrée, offer to bring a taste out with the meal.
Clearly, offering a sample of a $120 bottle of wine isn't an option. Instead, find a similar wine on the by-the-glass menu and then try to upsell to a nicer bottle of that blend. This practice will increase the revenue stream.