On the flipside, some products will enhance the guest experience. Finding a product that puts a smile on a visitor's face will push them to return during future travels.
These great housekeeping products will help keep your hotel fresh and hygienic, and your guests happy.
Bobson Marble-Matic Digital Metered Aerosol Dispenser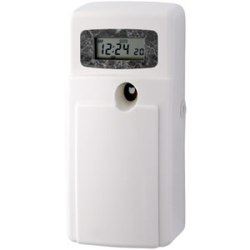 Supplier: Davidson Washroom
Not every housekeeping product requires attention from your staff. This great gadget will keep an average-sized hotel suite smelling fresh and clean, utilising one of 16 different scents with a unique odour neutraliser.
The Bobson AD-240M Marble-Matic Digital Metered Aerosol Dispenser features an LCD display with programmable spray times and multiple on/off time intervals. This best-selling unit operates on one "D" battery that will last for up to four years.
Ettore Webster Duster and Brush
Supplier: Cairns Cleaning Supplies
The Ettore Webster Duster and Brush boasts a unique design to clean high corners, cobwebs, crown moldings and more. It has an optional extension pole that creates a total reach of almost two metres.
The electrostatic action duster has split-tip bristles that attract fine dust particles. This tool is an ideal cleaning partner to keep guest rooms clean and tidy.
MX 103C carpet extractor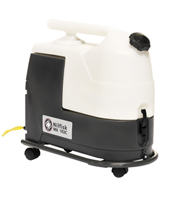 Supplier: Nilfisk Alto
The MX 103C carpet spot cleaner provides an economic and easy-to-use professional solution to inevitable carpet stains. The compact design combines a performance-matched pump with a powerful vacuum, leaving a clean and almost-dry finish that is quickly ready for foot traffic.
There is also an optional hand-held upholstery tool that can be used to clean furniture. The unit is easy to use and the large cap makes emptying the tank a snap.
Numatic NC3 Janitor Trolley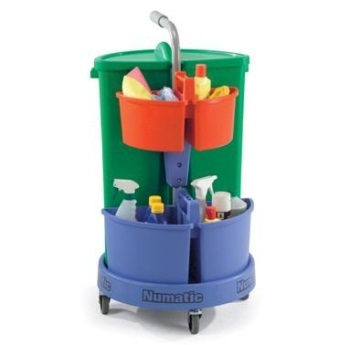 Supplier: RJ Cox Engineering
The Numatic NC3 Janitor Trolley offers a perfect mix of convenience and time savings. It takes up less space than the average caddy, making it a great option for busy hotels that want to maintain a guest-first image.
The 70-litre waste bin has ample space to handle several rooms, while the two colour-coded detachable cleaning caddies place all your cleaning needs in a convenient, portable package. Housekeepers can take what they need where they need, saving time while being less intrusive.
Sophie Stainless Steel Maids Cart HOS-101-MAIDSCART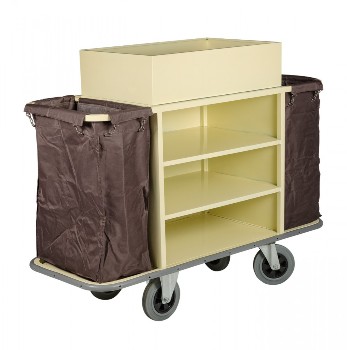 Supplier: Wagen Hospitality
A busy housekeeping staff will get a production boost with the help of Wagen's Sophie Stainless Steel Maids Cart.
This model is equipped with 2 linen bags so everything needed to make up 10-15 guest rooms can be efficiently organised in one cart. The bags stay secure with mounting clips, but are easy to load or remove when full.
The stainless steel construction is tough and durable, while the powder-coated finish makes it easy to clean. This cart is easy to move, thanks to the 200mm non-marking castors, and the round, buffered corners will protect walls from marks and gouges. There is plenty of storage, including a deep top tray and three slots created with two fixed shelves.
Deltathor Plus insecticide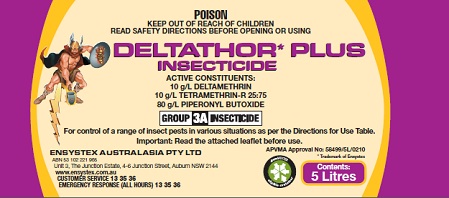 Supplier: Ensystex Australasia
Handling insect control isn't exactly fun, but it is certainly a better idea than ignoring the problem.
Deltathor Plus insecticide is an ideal pesticide to control rapidly-breeding insects, including cockroaches, fleas, flies and more.
The water-based suspension concentrate comes with a written quality performance guarantee. Deltathor Plus provides exceptionally fast knockdown of pest species, thereby minimising their spread.